Events
Upcoming
2022, October
CHASM Workshop
15th-16th October. Online and Poland, LUNARES Mobile Research Station
This LUNARES + CHASM event is the first in a series of workshops taking place in analogue space missions bases, with purpose to improve them.
---
---
Past events
2022, April
CHASM Launch
2nd-3rd April. Cambridge, University of Cambridge
The inaugural CHASM conference. The Conference on Human Analogue Space Missions (CHASM).
2020-2021
Lockdown
Everywhere
The Mars Society UK sadly took a break from in person talks. As did the rest of the world.
2019, November
European Mars Conference (EMC)
4th-6th November. London, Institute of Physics
The yearly European Mars Conference were all the Mars Societies from around Europe come together. At the Institute of Physics in London, 4th – 6th November 2019.
---
SIRIUS19 Lunar Mission Specialist talk
1st November. Oxford, Oxford University
The Mars Society UK (MS:UK) in collaboration with Oxford University's Aeronautical Society (AerOx) and the Science Innovation Union (SIUOxford) are pleased to announce guest speaker Anastasia Stepanova to share her experience on board the NEK Lunar analog station as part of the SIRIUS19 crew organised by the Institute of Biomedical Problems (IMBP) in Russia.
This event will take place on Friday 1 Nov, 7:30pm at Oxford's Worcester College at the Sultan Nazrin Shah Centre. For more information and to register your attendance, please go to Eventbrite.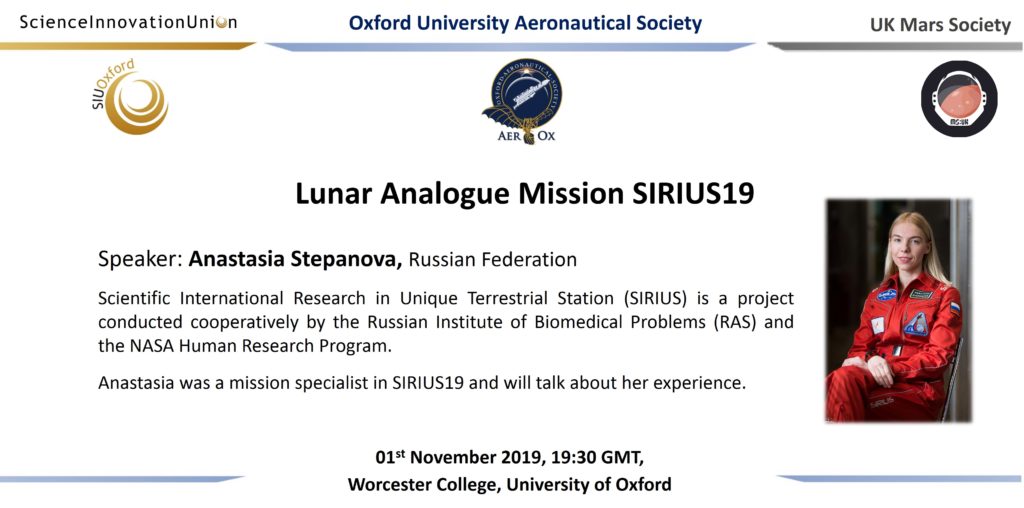 2019, March
Mars Colony Prize Hackathon (Mars Society London)
16th – 17th March 2019. London, British Interplanetary Society
Join us for our second major event, encouraging and supporting you to develop designs for a Mars habitat/colony. We want to encourage submissions to the international Mars Society's contest, with potential for winning one of the prizes if you submit to the contest. Details below.
2019, January
Mars Society UK Inaugural Event – Relaunch
25th January 2019. Oxford, Worcester College
In collaboration with AerOx, the inaugural Mars Society UK event Relaunch is being held in Oxford on 25 January 2019. This is the 15-year anniversary of the successful deployment of NASA's Mars Exploration Rover-1, Opportunity.
Join us at the Sultan Nazrin Shah Centre at Worcester College, Oxford for an evening of talks, workshops and drinks themed around the opportunities getting humans on Mars will bring.
To celebrate the UK's contribution to Mars, we have organised a panel of speakers who are going to talk about the opportunities to reach, research, explore, or settle the Red Planet.
Speakers include:
2018, November
Mars Society London Inaugural Event
26 November 2018. London, RocketSpace
Mars Society London is holding its inaugural event on Monday 26 November 2018 at RocketSpace, London. Register and find out more at the Eventbrite page.
Speakers include: