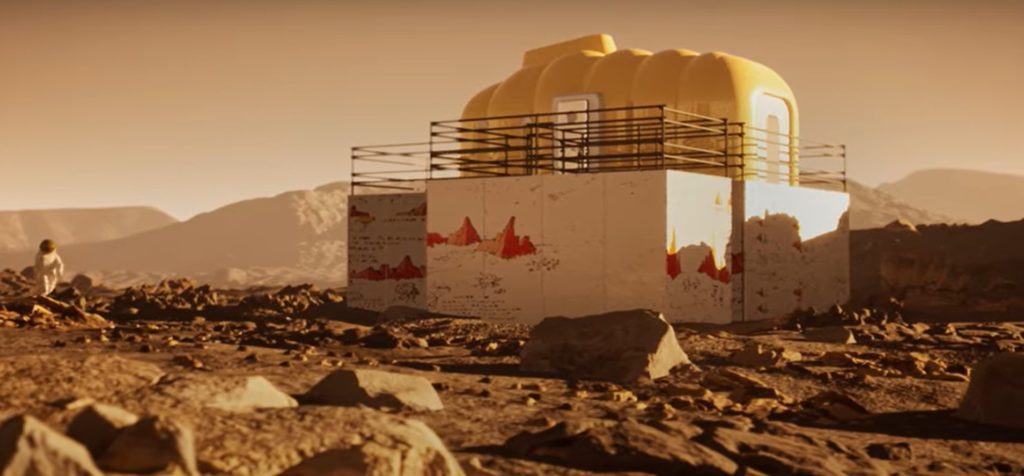 Martian Habitat in Bristol
A Martian habitat is popping up in the centre of Bristol, UK.
The artists Ella Good and Nicki Kent spent seven years achieved their goal of building a Martian Habitat. And it's one you can go and visit.
The house is full of concepts, examples and ideas around living on another planet. It's a cross between an engineering and an artistic impression of what living on Mars might be like for any human.
One of the ideas behind the design is that part of it will be underground. The photo above shows the two halves, the top golden-looking part is inflated and would sit above the ground. The other larger part is would be below the ground. On Mars this would make the lower part much more protected from the harsh radiation that Mars receives, so a family living on Mars would spend most of their time below the ground, especially sleeping, protected from the radiation – but it will always be nice to look out a window at the Martian landscape once in a while!
You can visit the ground floor of the habitat in September and October (Wednesday and Saturday). And there are other events available too, such as one teaching hydroponics (actually it's "hydropoetics"…).
Contact the Bristol Museums for more info.
References:
Ella and Niki Website: https://buildingamartianhouse.com
Ella and Niki YouTube: https://www.youtube.com/channel/UCtcxLadKMYBc8YRAdE7_IUA
Bristol Museum: https://www.bristolmuseums.org.uk
Images:
Mock up outside Museum: From Hugh Broughton Architects and Pearce
Hab superimposed on Mars: From youtube video at https://www.youtube.com/watch?v=H9wS4y7wc30