Speaker – Abbie Hutty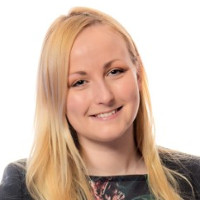 Abbie Hutty
Delivery Manager and Structure Supplier Operations Manager ExoMars Rover Project at Airbus
← Back to the European Mars Conference
Abbie was inspired to pursue a career in science and engineering by the Beagle 2 Mars lander programme, and gained her Masters' Degree in Mechanical Engineering in 2010 at the University of Surrey. Here she received several awards and prizes, including for her placement year at SSTL, her Masters' thesis on the use of composites in spacecraft structures, and for the highest graduating mark in the department.
Abbie joined Astrium at Stevenage, now Airbus Defence and Space, as a Mechanical Engineer in 2010. She joined ExoMars Rover Team as a Spacecraft Structures Engineer in 2012. Abbie spent five years as the lead Structures Engineer for the Rover Vehicle, coordinating a team of design specialists responsible for all functionality. Following successful delivery of the first full structure build, Abbie has recently taken on the role of Platform Delivery Manager for the Rover. In this role she is responsible for delivering all of the subsystems on the Rover Platform, testing and integrating the finished Rover, as well as the two non-flight test rovers which are being produced in parallel to demonstrate the design's capabilities. Following the completion of Rosalind Franklin ExoMars flight build, Abbie will be moving to work on the proposed Sample Fetch Rover which is a follow-on mission paired with NASA with the goal of returning samples from Mars back to Earth.
Abbie also supports many STEM Education and Outreach roles; talking about the mission and her role to students and the wider public in order to promote engineering careers and the study of STEM subjects to the next generation. In the course of her outreach work she has been to Buckingham Palace, Parliament, 10 Downing Street, and the United Nations, and has met heads of state, royalty, politicians, astronauts and celebrities. She has appeared in numerous print, radio, and televisual and speaking roles in her capacity as an ExoMars Engineer, including giving a talk at a UN conference, a TEDx talk, appearing in the Royal Institution Christmas Lectures, and on Stargazing live with Brian Cox and Dara O'Briain.
In 2013 Abbie was selected as the IMechE's Young Member of the Year and later named as the IET's Young Woman Engineer of the Year, followed by the accolade of "Rising Star 2014" from the Royal Academy of Engineering, and winner the Science category prize in the "Women of the Future Awards" 2017. A chartered engineer through the IMechE, as well as a council member for the IET, in 2016 Abbie was elected Fellow of the Institution of Mechanical Engineers, the youngest individual in the Institution's history.