MS:UK Crew – Events & Outreach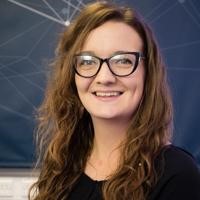 Emma Ryan
Events & Outreach Coordinator
Emma is a keen stargazer and has always been interested in human space travel, not least because she watched too much Star Trek as a child.
She currently works as a Development Engineer at Reaction Engines following completion of her doctorate. Her research included improving the reproducibility of wire and arc additive manufacturing for space applications at a large defence and space company.
Emma previously studied Physics at the University of Edinburgh where she specialised in astrophysics based modules. She also had a summer internship at the Astronomy Technology Centre based at the Royal Observatory, working as part of a team building a spectrograph for the Very Large Telescope.
Emma spends time carrying out outreach at local schools and other large events, such as Farnborough Airshow, talking about her experiences of studying STEM, her job roles, and (hopefully) enthusing people to enjoy space as much as she does.